putty:[profile] URL handler
Why: To share clickable shortcuts to PuTTY profiles in version control. Shortcuts to .exes cannot be shared because PuTTY install paths on all machines might not be the same.
Instructions
Download URLConf from http://urlconf.codeplex.com/ (use the .msi installer)

Run it as an administrator: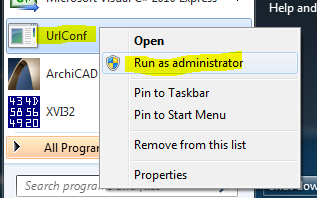 Go to "Edit -> New"

Enter details as such: 

Program:
C:\Programs\UrlConf\UrlConf.exe

Parameters:
"%1" – "C:\Programs\PuTTY\PuTTY.exe" -load "$h"

Obviously, replace paths to UrlConf.exe and PuTTY.exe with your corresponding paths.
Now create a shortcut somewhere and type putty:<name_of_your_putty_profile> as the URL.